Episode 19 – Simplifying Settlements: Stipulations vs. Compromise & Releases Unpacked with Special Guest Travis Sams, Esq., Partner
Welcome to LFLM LAW with L.A.W. – the podcast that dives into the intricacies of workers' compensation cases.
In today's episode, Travis Sams, Partner, San Jose, will delve into the nitty-gritty of workers' compensation settlements in California. Travis and Lindsay will unravel the differences between stipulations and compromise & releases, helping you make informed decisions.
Whether you are a workers' compensation professional or simply interested in understanding the complexities of these disputes, this podcast aims to provide valuable insights and strategies for achieving favorable decisions in workers' compensation proceedings.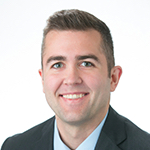 Travis M. Sams, Esq. of our LFLM-San Jose Office
Also Available on Apple Podcasts, Spotify & Libsyn:
Listen to Other Podcasts in Our Series

Laughlin, Falbo, Levy & Moresi, LLP.